Intro: 
What is SAP? SAP is an acronym for Systems, Applications, and Products in Data Processing. It is one of the leading enterprise resource planning (ERP) systems used by organizations all over the world. In this interview, we get a chance to peek into the life of an SAP engineer, learn about some of the challenges and successes he has experienced while working with SAP at GeeksForLess.
Q: How did you start working with SAP at your company? 
A: I joined the board 6 years ago as Vice President, and this is the time when we introduced the SAP initiative to the company. Before that we had no idea how to tame this beast. 
Flash forward: today we have 40 SAP consultants in our company. 
Q: And what does your work with SAP look like today as a result? 
A: Right now we work with SAP ECC, SAP S 4 HANA, we help migrate from the old version to the cloud, etc. We have clients in finance, construction and government companies in Canada, Europe and GULF region.
Besides that, we are doing different modules: FICO (finance), MM (materials management), SuccessFactors for the HR. We also work with a few rare systems, offer infrastructure support and migrations. 
Q: Is there an exciting project you are working on now? 
A: At the moment we are doing the migration for Booking.com — we are migrating their financial system to the cloud. It's related to a Business Intelligence project. 
Q: At some point you referred to SAP as "the beast". What was so scary about it back then? 
A: SAP is a solution for large enterprises, starting from 200-300 users in the system. It's not like working with a small website. The solution is very niche and you need to find the right people for work.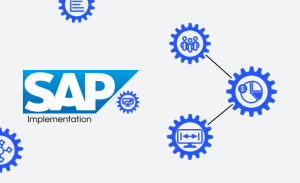 Q: What are the skills and the background of your 40 specialists today? How do you build your dream SAP team? 
A: We have a very sophisticated hiring process for SAP development. First, we are looking for senior people only. The minimum average experience at GeeksForLess is 8+ years, and I'm very proud of that. They have huge SAP projects in their portfolio, and they also have Java and JavaScript, which helps a lot with integrations with different APIs. 
Then, we have SAP consultants, developers, engineers and all of them have a very impressive background. 
Q: What are the most challenging parts when you are working with SAP and how to solve them? 
A: Like I said before, SAP is very niche and unique. The challenging part is to find a very skilled engineer for a reasonable price. Our clients are looking for high quality, yet, they want to avoid extra expenses. 
We are proud to provide this experience, where high quality meets a reasonable price. 
When it comes to projects, it's also about establishing communication, organizing workshops and explaining. All this preparation gives us a success in the end. 
Q: What about the most fun part? 
A: You always find a new challenge, new client who wants a new module. Even after 6 years, when you think you are familiar with the SAP ecosystem and environment, you are always learning. 
You discover, create and always find something new in the system. 
We are thrilled to be able to stack our experience, hard and soft skills, as well as the desire to learn to offer our clients the best service.
Another interesting interview: Delving into the world of mobile development.